Duck Dodgers was a 2003 39 episode TV series based on the old Loony Toons shorts. Its was a modern update on the character and hopefully the Loony Tunes franchise as a whole.
The vampires in question are from a episode called I'm Gonna Get You Fat Sucka. Duck Dodgers and his eager young space cadet (Porky) comes to a planet on what they think is an embassy mission. In truth its a trap set by Count Blood Count, to feed on them. Blood Count considers Cadat a more fullfilling meal of Dodgers. So he hypnotize Dodgers into his servent and sends him to capture Cadet and bring him to the count. Dodgers tries a variety of plans, but all seem to backfire in some form or another. This such plan invovled luring Cadet into a room where three vampire women wait to attack him. But it backfires as the women find the Cadet charming and let him go unharmed.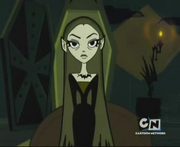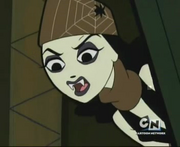 Ad blocker interference detected!
Wikia is a free-to-use site that makes money from advertising. We have a modified experience for viewers using ad blockers

Wikia is not accessible if you've made further modifications. Remove the custom ad blocker rule(s) and the page will load as expected.